Home
>
Why use the Maine Job Bank?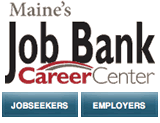 Why use the Maine Job Bank?
Duration: 1:00
The following is the script to the audio version:
(phone ringing)
(someone picks up)
Phone: Hello my name is Gabriel Finch and this is Great Groceries, how can I help you?
Woman: Hi Gabriel, um, I was just wondering if your store got my online application?
Gabriel: Oh… No, we aren't hiring right now.
Woman: (frustrated) Oh, okay, just give me a call if any openings come up.
Gabriel: Will do. Sorry about that.
(phone hangs up)
Woman: Well that's the twenty-fifth denial I've gotten all month. I need to pay my rent and finding a job is hopeless!
Man: Has this ever been you? In today's economy, finding a job can be tough, but thanks to the people at Maine's CareerCenter it can be as easy as answering a few questions or browsing a user-friendly online job board. It's called the Job Bank and you can find it at mainecareercenter.com. All jobs are posted directly by the employers and reviewed by CareerCenter and Job Bank staff before going live. So you can rest assured your time won't be wasted. To make sure you're getting the most out of your job search, visit mainecareercenter.com. The Maine Job Bank is a no-charge service provided by the Maine Department of Labor. To sign up today or get more information, visit mainecareercenter.com.