Calais CareerCenter
The Calais CareerCenter is part of the statewide CareerCenter network that provides a variety of employment and training services at no charge for Maine workers and businesses.
Maine Veterans receive priority of service in all CareerCenter programs.
Contact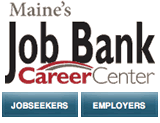 Address: One College Drive, Calais, ME 04619-0415
Phone: (207) 454-7551 or 1-800-543-0303
Fax: (207) 454-0349
TTY users call Maine Relay 711
Hours: Monday to Friday, 8 a.m. to 5 p.m.
Directions: Map Location
Community Links
Finding the answers to health and human services information and resources is as quick and easy as dialing 2-1-1 or logging onto 211maine.org.

Business Answers online exists to make it easier to start and conduct business in the State of Maine.

Provides veterans and transitioning service members with resources and services.

Provides Fidelity Bonds that guarantee honesty for "at-risk", hard-to-place job seekers.

Sets workforce development policy for its local area. This policy is effectuated through staff at the CareerCenters.

Provides business management assistance, training, resource and information services to Maine's micro, small, and technology-based businesses.

Great for helping with resume and job description writing.

Small business resource directory for Washington County based businesses.

WHCA promotes self-sufficiency by helping income-eligible persons obtain essential services including transportation, housing, entrepreneurial support, and family services.
Local Education/Training Resources
Receive guidance and support for life transitions, career change, job loss, resume writing, interview practice, basic financial management, self employment and community resource referrals.

The Maine Fishermen's Forum Scholarship Fund was established for the benefit of immediate family members (son, daughter, grandson, granddaughter) of anyone actively participating in Maine's seafood industry.

The Gracie Fund offers tuition-reimbursement incentives to encourage natives of Washington County, or those who consider Washington County their "home", to establish roots in the community following completion of their post-secondary education. Applications are invited from students who have recently completed school and are building a professional and personal life in Washington County.

The Gracie Fund fosters community development by helping recipients connect to Washington County through their commitment to a career and community service. School loan repayment awards of up to $5,000 will be awarded to up to three individuals each year. Awards may be renewed for up to three years. The IRS considers these awards taxable income.

Complete guidelines and application form are available through the Maine Community Foundation and SCEC, which jointly administer the Gracie Fund. Go to www.mainecf.org or www.sunrisecounty.org, or call 877-700-6800 (toll-free).