Presque Isle CareerCenter
The Presque Isle CareerCenter is part of the statewide CareerCenter network that provides a variety of employment and training services at no charge for Maine workers and businesses.
Maine Veterans receive priority of service in all CareerCenter programs.
Contact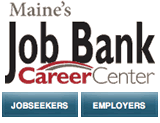 Address: 66 Spruce Street, Suite 1, Presque Isle, ME 04769-3222
Hours: Monday to Friday, 8 a.m. to 5 p.m.
Phone: (207) 760-6300 or 1-800-635-0357
Fax: (207) 760-6350
TTY users call Maine Relay 711
Directions: Map Location
Community Links
211 is a searchable on-line database of community resources containing information on 5,000+ human services. It is the place to turn to when trying to find help.

The Division of Vocational Rehabilitation, also known as "VR," is a Department of Labor program that helps people who have disabilities to get and keep a job. VR helps people who have physical, mental, or emotional disabilities.

Local Area 1 Workforce Investment Board Aroostook and Washington Counties

Official Site offering tutorials in both 2003 and 2007 versions of the software

About Our Mission:

New Ventures Maine helps individuals recognize strengths, overcome barriers, find resources, develop a plan, take action towards their goals: start a business, find a career, return to school, build assets, be active in the community. Classes and workshops at no charge, in-person and online options, one-on-one coaching. We offer programs that encourage and empower those thinking about making a change to take the next step towards a new career, a new business, a new approach - a new life.

Contact Information Women, Work, and Community Presque Isle Center University of Maine at Presque Isle 181 Main Street Presque Isle, ME 04769 Suzanne Senechal Phone: (207) 768-9635

Suzanne Senechal-Jandreau - Workforce Development Coordinator Email: senechal@maine.edu

Maine Small Business Development Centers

Maine Veterans receive priority of service in all CareerCenter programs. Call Leslie Brown, Veterans' Representative at the Presque Isle CareerCenter at 760-6322 to set up an appointment.
Local Education/Training Resources
Caribou area adult education for assistance with GED, computer training, Certified Nurses Aide training and various other educational programs.

75 Bennett Drive • Suite 2 • Caribou, ME 04736 dmacdonald@rsu39.org • (207) 493-4272