Tri-County CareerCenter
The Tri-County CareerCenter in Bangor is part of the statewide CareerCenter network that provides a variety of employment and training services at no charge for Maine workers and businesses.
Maine Veterans receive priority of service in all CareerCenter programs.
Contact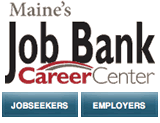 Address: 45 Oak Street, Suite 3, Bangor, ME 04401-7902
Phone: (207) 561-4050 or 1-888-828-0568
Fax: (207) 561-4066
TTY users call Maine Relay 711
Hours: Monday to Friday, 8 a.m. to 5 p.m.
Directions: Map Location
Some services may also be obtained at other locations in Region 2 on a limited basis.
Community Links
211 is a searchable on-line database of community resources containing information on 5,000+ human services. It is the place to turn to when trying to find help.

145 Harlow Street, Bangor, Maine 04401

BAT Community Connector is a fixed route public transit system operated by the City of Bangor for the communities of the Greater Bangor Urbanized Area.

Downeast Regional Transition Council brings together people who are involved with youth in transition, to foster opportunities for youth to pursue their dreams and become productive integral members of their communities.

Eastern Maine Development Corporation (EMDC) is a private, non-profit organization established in 1967. The Corporation is located in Bangor, Maine and serves the six Eastern Counties of Maine: Hancock, Knox, Penobscot, Piscataquis, Waldo, and Washington Counties.

The Finance Authority of Maine provides access to innovative financial solutions to help Maine citizens pursue business and higher education opportunities.

County Search for Food Assistance Programs

This is a publication by the Hancock County Community Transition Team. Adobe Reader is required to view this guide.

Resource guide from Maine Equal Justice Partners

Tri-County Workforce Investment Board

Goal: To significantly increase the number of migrant and seasonal farmworkers and their immediate families who complete a Maine high school equivalency or diploma program and enter postsecondary education, training programs, upgraded employment, or the military.

Maine Veterans' Homes operates 640 beds in six facilities across the state, providing a continuum of care and support services for residents and families with unmatched commitment and compassion.

National Able Network® is a nonprofit agency working to serve individuals, families and communities by bringing together qualified job seekers and businesses.

Mission: To assist individuals and families in preventing, reducing or eliminating poverty in their lives, and, through partnerships, to engage the community in addressing economic and social needs.

The primary purposes of an SCSEP project are to provide useful part-time community service training assignments for persons with low incomes who are 55 years old or older and to provide useful community services while promoting transition to unsubsidized employment.

Maine Small Business Development Centers

United Way of Eastern Maine's mission is to mobilize the caring power of people and communities, but we cannot achieve our mission alone. It is with YOUR help that we can make lasting solutions in the lives of Eastern Maine's Individuals, Families and Seniors.

Useful links to veterans' resources

A Link between agencies looking for volunteers and people interested in volunteering.

WWCs mission is to improve the economic lives of Maine women and their families by increasing their income, assets, and earning potential and their overall quality of life.
Local Education/Training Resources
Find adult education programs in your area

99 Farm Road, Bangor, ME 04401

354 Hogan Road, Bangor, ME 04401

One College Circle, Bangor, ME 04401

One College Circle, Bangor, ME 04401

1010 Stillwater Ave, Bangor, ME 04401

Orono, Maine 04469

1 University Drive, Bangor, ME 04401-4331

200 Hogan Road, Bangor, ME 04401

1 Dirigo Drive, Suite 1, East Millinocket, ME 04430

1 Dirigo Drive, Suite 1, East Millinocket, ME 04430

1375 Union St, Bangor, Maine 04401

14 Marketplace Drive Augusta, ME 04330