Augusta CareerCenter
The Augusta CareerCenter is part of the statewide CareerCenter network that provides a variety of employment and training services at no charge for Maine workers and businesses.
Maine Veterans receive priority of service in all CareerCenter programs.
Contact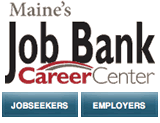 Address: 21 Enterprise Drive, Suite 2, Augusta, ME 04333-0109
Phone: (207) 624-5120 or 1-800-760-1573
Fax: (207) 287-6236
TTY users call Maine Relay 711
Hours: Monday to Friday, 8 a.m. to 5 p.m.
Directions: Map Location
Community Links
211 is a searchable on-line database of community resources containing information on 5,000+ human services. It is the place to turn to when trying to find help.

Guide to health care resource directory.

A collaboration between the Department of Labor and the Social Security Administration, The Disability Navigator program is a service of the CareerCenter for people with disabilities to help them "navigate" through the many work-related programs and services available at Maine CareerCenters.

People with disabilities need good jobs too. The Department of Labor has several agencies that can help people with disabilities find meaningful work and launch successful careers, help employers hire people with disabilities, and help federal contractors stay within the law when hiring.

Baycon Group provides tutorials on a growing list of computer-related topics. All tutorials are in depth, comprehensive, online, and -- best of all -- absolutely free.

Augusta area chamber news and events.

A list of some programs in Maine that may be able to help with your utility and fuel costs. Also lists other programs that may help in certain circumstances.

Official Site offering tutorials in both 2003 and 2007 versions of the software

Waterville area chamber news and events.

New Ventures Maine: offers free programs for career, business, and financial education. Helps small business owners research ideas, get organized, and create a business plan.

We offer a collection of print, electronic, and programming resources to support a large spectrum of career and business development needs. The Library offers 14 computers to support job seeking, career development efforts, and entrepreneurial research.