Lewiston CareerCenter
The Lewiston CareerCenter is part of the statewide CareerCenter network that provides a variety of employment and training services at no charge for Maine workers and businesses.
Maine Veterans receive priority of service in all CareerCenter programs.
Contact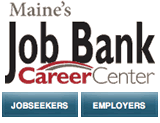 Address: 5 Mollison Way, Lewiston, ME 04240-5805
Phone: (207) 753-9001 or 1-800-741-2991
Fax: (207) 783-5301
TTY users call Maine Relay 711
Hours: Monday thru Friday 7:30 a.m. to 5:00 p.m.
Directions: Map Location
Employers Recruiting
Community Links
A service that reaches out and meets the critical human service needs of our state.

A service of the CareerCenter for people with disabilities.

A searchable database of part-time, seasonal, and full-time temporary jobs available for teens in the Androscoggin County area provided by Safe Haven of Androscoggin County and Volunteers of America.

Provides access to a broad array of business development assistance.

A new program that will make college more affordable for Maine students.

Works with more than 100,000 low-income workers age 55 or older. For more information please contact Cynthia or Carol at 753-9039 or call 1-800-741-2991

Get the competitive edge in the Job Market!
Local Education/Training Resources
Seasonal farmworkers or loggers and their families who: -Have worked at least 75 days in agriculture or in the woods over the last two years. -Would like a GED, a college degree, a better job, or a brighter future for their family.
Mentoring, tutoring, career & college advising. Travel and childcare support. $100 a week to support your studies.
Questions please call 207-200-3113 or log onto facebook.com/mainehep

Would you like to be trained in the skills needed for today's jobs? Ask us about no cost,employer-approved training that can get you back to work. Call or visit a CareerCenter near you to learn more. In Lewiston, call (207)753-9001,(800)741-2991,TTY users call Maine Relay 711. Visit us at 5 Mollison Way, Lewiston, ME 04240. Don't delay; get started on your new career path today!

Specialized training to meet employer needs. If eligible recieve a Ready2Work/Certified Nursing Assistant Certificate recognized by St. Mary's Hospital and other local health care facilities. Be guaranteed an interview Start earning near the end of course Opportunties for advancement. Contact Lewiston CareerCenter today, 207-752-9005 or 800-741-2991. TTY users call Maine Relay 711 . Enrollment will end 7/31/2015.