Lewiston CareerCenter
The Lewiston CareerCenter is part of the statewide CareerCenter network that provides a variety of employment and training services at no charge for Maine workers and businesses.
Maine Veterans receive priority of service in all CareerCenter programs.
Contact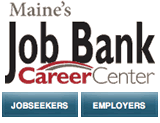 Address: 5 Mollison Way, Lewiston, ME 04240-5805
Phone: (207) 753-9001 or 1-800-741-2991
Fax: (207) 783-5301
TTY users call Maine Relay 711
Hours: Monday thru Friday 7:30 a.m. to 5:00 p.m.
Directions: Map Location
Employers Recruiting
Notices
Community Links
A service that reaches out and meets the critical human service needs of our state.

A service of the CareerCenter for people with disabilities.

A searchable database of part-time, seasonal, and full-time temporary jobs available for teens in the Androscoggin County area provided by Safe Haven of Androscoggin County and Volunteers of America.

Provides access to a broad array of business development assistance.

A new program that will make college more affordable for Maine students.

Works with more than 100,000 low-income workers age 55 or older. For more information please contact Cynthia or Carol at 753-9039 or call 1-800-741-2991

Get the competitive edge in the Job Market!
Local Education/Training Resources
Seasonal farmworkers or loggers and their families who: -Have worked at least 75 days in agriculture or in the woods over the last two years. -Would like a GED, a college degree, a better job, or a brighter future for their family.
Mentoring, tutoring, career & college advising. Travel and childcare support. $100 a week to support your studies.
Questions please call 207-200-3113 or log onto facebook.com/mainehep

This training will provide the basic skills needed to become a welder/fabricator. Training will take place at the New England School of Metalworks in Auburn, Maine with some supplementary training and materials provided by Senior Flexonics Pathways in Lewiston, Me. The first 6 weeks will consist of weld training and the next 6 weeks will focus on fabrication skills, including measuring, fit-up, math, and blueprint reading. Contact the Lewiston CareerCenter at 207-753-9001 or 800-741-2991 or use Maine Relay 711 to see if you would qualify. Next class 4/2016.