Skowhegan CareerCenter
The Skowhegan CareerCenter is part of the statewide CareerCenter network that provides a variety of employment and training services at no charge for Maine workers and businesses.
Maine Veterans receive priority of service in all CareerCenter programs.
Contact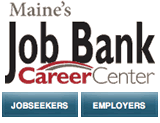 Address: 98 North Avenue, Skowhegan, ME 04976-1923
Phone: (207) 474-4950 or 1-800-760-1572
Fax: (207) 474-4914
TTY users call Maine Relay 711
Directions: Map Location
Hours: 8 a.m. - 5 p.m., Monday through Friday except for state holidays
Community Links
A primary source of occupational information to use in making informed decisions about education, training, career choices, and work.

Assists Maine women, minorities, and displaced workers.

Offering Workshops for women in the community.
Local Education/Training Resources
If applying online seems too hard, consider attending our next MEOC workshop. See workshop and event section above for date and time.