Wilton CareerCenter
The Wilton CareerCenter is part of the statewide CareerCenter network that provides a variety of employment and training services at no charge for Maine workers and businesses.
Maine Veterans receive priority of service in all CareerCenter programs.
Contact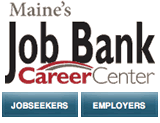 Address: 865 US Route 2E, Wilton, ME 04294-6649
Phone: (207) 645-5800 or 1-800-982-4311
Fax: (207) 645-2093
TTY users call Maine Relay 711
Directions: Map Location
Hours: 8 a.m. - 5 p.m., Monday through Friday except for state holidays
Some services may also be obtained at the following locations in Region 3 on a limited basis. Call for more information.
Local Education/Training Resources