Southern Midcoast CareerCenter
The Southern Midcoast CareerCenter in Brunswick is part of the statewide CareerCenter network that provides a variety of employment and training services at no charge for Maine workers and businesses.
The CareerCenter in Bath has moved to Brunswick!
As of May 23, 2011, we are now located at the address below.
Maine Veterans receive priority of service in all CareerCenter programs.
Contact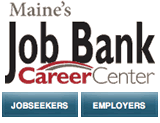 Address: 275 Bath Road, Suite #3, Brunswick, Maine 04011
Phone: (207) 373-4000 or 1-888-836-3355
Fax: (207) 373-4004
TTY users call Maine Relay 711
Hours: Monday to Friday, 8 a.m. to 5 p.m.
Directions: From the North or South: Traveling on Route 1, take the Cook's Corner exit. At the intersection, turn left and travel 0.7 miles. The CareerCenter is on your left across from Spare Time Family Fun Center. Parking is in the rear of the building.
Local Education/Training Resources
Welcome Back College is a new program administered by Wiscasset Adult & Community Education with funds from the Finance Authority of Maine (FAME) and the College Challenge Access Grant. Its goal is to assist and support former college students in Lincoln and Sagadahoc counties in their return to higher education. Welcome Back College serves students during the current academic year, 2012-2013.
Welcome Back College provides a wide range of services to students re-entering the college environment, including Personal Higher Ed Navigators who meet with students regularly to offer intensive support in a variety of areas. There is no cost for these services. The navigators help students with college search and selection, preparing admissions applications, transcript retrieval, career decision making, prior learning assessments, peer networking and study groups, navigating distance learning technologies such as ITV, videoconferencing, Blackboard, Maine Street and hybrid programming. They provide ongoing assistance to facilitate students' success.
Residents of Lincoln and Sagadahoc County who have attended college in the past, but did not receive a degree, are eligible for Welcome Back College.
For more information, call Wiscasset Adult & Community Education at 882-9710.