Greater Portland CareerCenter
The Greater Portland CareerCenter is part of the statewide CareerCenter network that provides a variety of employment and training services at no charge for Maine workers and businesses.
Maine Veterans receive priority of service in all CareerCenter programs.
Contact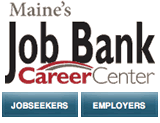 Address: 151 Jetport Blvd, Portland, ME 04102
Phone: (207) 822-3300 or Toll Free: 877-594-5627
Fax: (207) 822-0221
TTY users call Maine Relay 711
Directions: Map Location
Parking is free at the Greater Portland CareerCenter. If traveling by bus, take Portland METRO 5.
*The Portland CareerCenter moved to its new location on January 26, 2015

If you are a current client of Goodwill Workforce Solutions, please continue to visit them at their new location on 190 Lancaster Street, Suite 200 in Portland.
Community Links
Business Answers online exists to make it easier to start and conduct business in the State of Maine.

METRO provides fixed route bus service to Portland, Westbrook, South Portland (Maine Mall area) and Falmouth Crossing (Banknorth) areas.

This organization has been providing assistance to Maine people who are struggling with mental illness and substance abuse issues.

Go to www.needymeds.org/ to find about options.

They offer many services including workshops on Career Exploration: Paying the Bills and Feeding the Soul,Introduction to Starting a Business,and a Self-Esteem Workshop.
Local Education/Training Resources