Greater Portland CareerCenter
The Greater Portland CareerCenter is part of the statewide CareerCenter network that provides a variety of employment and training services at no charge for Maine workers and businesses.
Maine Veterans receive priority of service in all CareerCenter programs.
Contact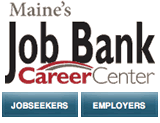 Address: 151 Jetport Blvd, Portland, ME 04102
Phone: (207) 822-3300 or Toll Free: 877-594-5627
Fax: (207) 822-0221
TTY users call Maine Relay 711
Directions: Map Location
Parking is free at the Greater Portland CareerCenter. If traveling by bus, take Portland METRO 5.
*The Portland CareerCenter moved to this new location on January 26, 2015

If you are a current client of Goodwill Workforce Solutions who would visit the old CareerCenter, you may continue to visit them at their new location on 190 Lancaster Street, Suite 200 in Portland. You can access Goodwill Workforce Solutions on Lancaster Street through Portland METRO 8 and the Greater Portland CareerCenter at Jetport Boulevard on Portland METRO 5. They can be reached at 207-775-5891.
Community Links
One number – thousands of services. 2-1-1 is an easy-to-remember number that connects people who want to give help or get help with a full range of health and human services in their community.

CA$H is a free, year-round resource, providing outreach and education about ways you can make the most of your money. Including resources for Tax preparation, reducing your debt and building your savings.

enroll207 is a project of the Maine Health Access Foundation, the state's largest health care foundation. The purpose of enroll207 is to connect Mainers to certified assisters who can help review new options for health insurance through the Maine Health Insurance Marketplace.

METRO provides fixed route bus service to Portland, Westbrook, South Portland (Maine Mall area) and Falmouth Crossing areas.

Programs for career, business and financial education.

"Helping Maine people succeed in their jobs, businesses, and communities. We help individuals recognize strengths, overcome barriers, find resources, develop a plan, take action towards their goals: start a business, find a career, return to school, build assets, be active in the community."

The Opportunity Alliance works with people to build better lives and stronger communities. We provide advocacy, leadership, and support to identify the goals and address the needs of individuals, families, and communities.

A one-stop source for volunteer information in Maine.
Local Education/Training Resources