York County CareerCenter
The York County CareerCenter in Springvale is part of the statewide CareerCenter network that provides a variety of employment and training services at no charge for Maine workers and businesses.
Maine Veterans receive priority of service in all CareerCenter programs.
Contact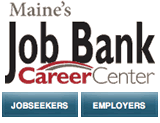 Address: 9 Bodwell Court, Springvale, ME 04083
Phone: (207) 324-5460 or 1-800-343-0151
Fax: (207) 324-7069
TTY users call Maine Relay 711
Hours: Monday to Friday, 8 a.m. to 5 p.m.
Directions: Map Location
Community Links
A service of the CareerCenter for people with disabilities to help them "navigate" through the many work-related programs and services available at Maine CareerCenters

Helping Maine people succeed in their jobs, businesses, and communities. We help individuals recognize strengths, overcome barriers, find resources, develop a plan, take action towards their goals: start a business, find a career, return to school, build assets, be active in the community.
Local Education/Training Resources
Literacy Volunteers of Greater Sanford 207-324-2486
Seeds of Hope 207-571-9601
Your Local Adult Education Provider
GCFlearnfree.org