About Apprenticeship
Additional Information
Featured Links
Maine Apprenticeship Program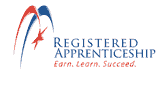 Registered Apprenticeship programs meet the skilled workforce needs of American industry, training millions of qualified individuals for lifelong careers since 1937. The Maine Apprenticeship Program (MAP) helps mobilize Maine's workforce with structured, on-the-job learning in traditional industries such as construction and manufacturing, as well as new emerging industries such as health care, information technology, energy, telecommunications and more. Registered Apprenticeship connects job seekers looking to learn new skills with employers looking for qualified workers, resulting in a workforce with industry-driven training and employers with a competitive edge.
The Maine Apprenticeship Program assists in setting up structured yet flexible training programs designed to meet the specific needs of Maine employers through on-the-job learning and related classroom instruction.

Apprenticeship Programs can be sponsored by employers, employer associations, or labor/management groups that can hire and train in a working situation.

MAP may reimburse up to 50% of an Apprentice's tuition costs. In addition, the apprentice works full-time for their sponsor (employer), applying related coursework and newly acquired skills to accomplish occupational tasks in a hands-on environment.
Information for:
Additional Information